Back
EMS 2017: AMERICAN EXPRESS OFFERS EIGHT TIPS FOR SUCCESS IN LIVE EVENTS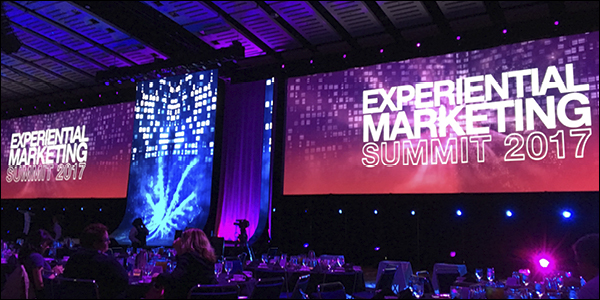 This year's Experiential Marketing Summit featured four killer keynote speakers, including Deb Curtis, vp-global experiential marketing at American Express, who delivered a perceptive morning keynote to kick off day two of the conference. Curtis offered an overview of the financial services giant's 167-year history, along with insights on what it means to be a part of the experiential marketing industry now, and in the future.
At the core of the message was one critical concept that has guided American Express's approach since the company's foundation: "Service as heart. Re-invention as soul." Creating a sense of trust and providing card members with top-notch service is, and always has been, what the brand stands for, says Curtis. "It's the trust and service with our card members that is central to our mission. It's in our DNA and it's the pumping heart of the company."
Following are eight tips and soundbites from Curtis for succeeding in experiential—the American Express way:
1. Be True to the Brand
"Think long and hard about who you are as a brand," says Curtis. "Whether you're a long-standing company or a startup, really understand your core… you must understand what yours is to understand how to ignite the power of partnership."
2. Put Customer Service First
"Your customer is the hero. Be curious. Anticipate… If you feel like you're not doing enough, do more."
3. Treat Your Partners as Partners
"We don't get to do what we do without partners. Think and treat them as part of your team. Understand them, ask them questions. Be as curious about them as you are about your own customers."
4. Trust Matters
"Your reputation matters, both personally and for your brands. Respecting the relationship is paramount and the best ideas flow from there."
5. Be Ready for Change
"This solar system of experiential marketing is changing every day. Sometimes the pace is exhilarating. Sometimes the pace seems exhausting. But it's always for the curious, unrelenting experimenters."
6. Get Diversity of Thought, Team and Action
American Express's events team comes from a wide variety of backgrounds and experiences.
7. Realize you are in the Happiness Business
"What we do adds to people's lives. We are very lucky we get to make people happy."
8. Always Do What Satiates You
"You need to do what matters to you. Do what you crave and do what you love."
------------
Credit to: http://www.eventmarketer.com/a...