Back
INSIDE 10 OF THE INDUSTRY'S BEST DIGITAL SPORTS SPONSORSHIP ACTIVATIONS
Brands Deliver High-Tech Engagements to Score With Today's Hyper-Connected Fans
Not that long ago sports sponsorships centered on physical assets like naming rights and stadium signage. Brands paid big bucks to become the Official Potato Chip or Soft Drink of a league or franchise. These days, however, it's a whole new ballgame. In order to score with today's super-connected fans, sponsorship activations have gone high-tech, incorporating RFID, 3D, interactive video, social media and more into fan fests and sports zones. Arenas and stadium lounges have undergone a digital makeover as well. Here, in no particular order, is a run-down of 10 top digital sports sponsorship activations.
American Express's Digital Water Wall
This hydro-interactive tennis experience on Pier 97 in New York City offered American Express VIPs and cardmembers the super high-end, industrial grade kind of light show one would expect to see at a Jay-Z concert instead of the U.S. Open. As Maria Sharapova, John Isner and other tennis dynamos faced off on court, their interactive racquets translated their moves into 3D graphics, animations, sounds and video projections, all in real time, onto a 40-foot by 60-foot wall of water pumped in from the Hudson River. A real-time camera feed and motorized lasers produced a visual experience that wowed the crowd (Agency: Momentum Worldwide, New York City).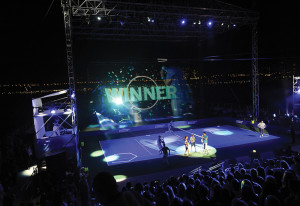 LG's RFID-Powered Fan Fest
RFID wristbands linked fans to Facebook and Twitter as they went throughLG's 4,500-square-foot "training facility" activation in the Final Four Fan Fest at the Indiana Convention Center in Indianapolis. NFC technology served as the backbone to the experience, enabling all photos and videos to post to social, and allowed LG to track interactions as fans made their way through a Player's Lounge, Locker Room, Practice Gym and Film Room. Even the traditional prize wheel was digital—fans used LG's gesture-controlled TV remote to spin for prizes (Agency: Advantage International, Norwalk, CT).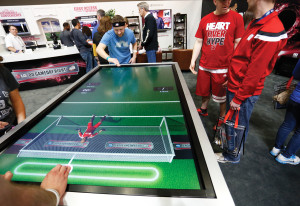 Interactive Digital Video at NBA House
American Express PIVOT, an interactive digital video activation at NBA House in New York City over NBA All-Star Weekend, enabled fans to get up close and personal with the signature moves and personal stories of four NBA stars—John Wall, Anthony Davis, LaMarcus Aldridge and Mason Plumlee. State-of-the art wraparound camera technology enabled users to pivot around the player, who appeared life-size on 103-inch screens, and view his passes, dunks and drives from various perspectives. It also gave the fans a level of control, so they could experience it in their own way (Agencies: RadicalMedia; Digitas; Mindshare; Momentum Worldwide; Wasserman Media Group and PMK-BNC).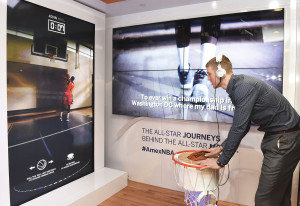 Bud Light's Social Media Lounge
An ultra high-definition multi-screen touch display gaming wall, two interactive "morphing" stations and five Microsoft Surface Pro 3 tablets are the latest digital additions to Bud Light's Social Media Loungeat Washington Redskins' FedEx Field. The gaming wall leverages Microsoft Kinect gesture technology to allow fans to take a shot at kicking field goals. Tweets using #Redskins, #httr, #BudLight and #upforwhatever are posted in real-time on the wall. At the morphing stations they can create virtual bobbleheads and become Super Fans by choosing virtual eye black and helmets in Redskins colors, then post their image to social media (Agency: MVP Interactive, Philadelphia).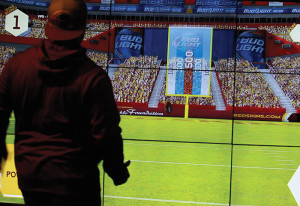 UFC's Las Vegas Wired City App
The UFC Access Pass served as a digital key to Las Vegas and International Fight Week for attendees who signed up via Facebook, Twitter or email for access to pool parties, clubs, talent weigh-ins and meet-and-greets along with free drinks, discounted meals and VIP access to various venues. Fans simply tapped their credentials, which included interchangeable RFID-enabled badges and wristbands, as well as QR codes, to participate in activations, earn UFC Rewards points and share on social media. It was free and easy for fans, but required a slew of tech tools all linked together in real-time under the Microsoft Azure Cloud (Technology Partner: Thuzi, Tampa, FL).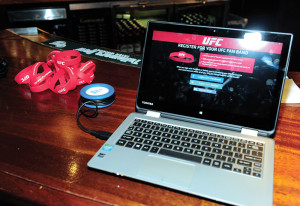 Projection Mapping at Super Bowl XLIX
A spectacular light show during the lead-up to the Big Game powered by Tweets, Instagram posts and Facebook comments as fans voted for their favorite team became a larger-than-life experience splashed across two sides of the 200-foot-tall Bank of America building in Phoenix. Fueled by the hashtag #WhosGonnaWin, an algorithm measured the votes and converted them into the show, which drew crowds each night at the base of the building for "watch parties" and positioned Verizon, the campaign sponsor, as a technology leader. Verizon leveraged sports talent to generate buzz, which already had fans pretty lit up (Agency: Wasserman, New York City).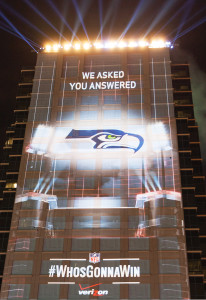 Gesture-Based Basketball Interaction by Kumho
Virtual hoops action sponsored by Korean tire manufacturer Kumho stopped New York City subway riders in their tracks for a touch screen video game of pop-a-shot with New York Knicks star Carmelo Anthony. During the week before the All-Star Game, participants aimed tires (a nice tie-in with the brand, the official tire of the NBA) instead of basketballs with the swipe of a finger at a perpetually moving hoop housed on a large-format touch screen. Participants received their photo with their virtual Melo and were entered into a sweepstakes to play a real game of H-O-R-S-E with the basketball star (Agencies: Pearl Media, Plainfield, NJ; Pal 8 Media, Santa Barbara, CA; Trailer Park, New York City; Russ Media, New York City).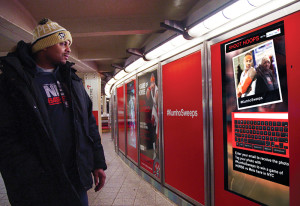 Reebok's Interactive Athlete Challenge
A life-sized interactive display where users tested their CrossFit skills against top CrossFit athletes at all six locations of the Reebok CrossFit Regional Competitions in May and the CrossFit Games in July motivated and engaged the hyper-competitive audience while capturing their information for ongoing engagement. Reebok filmed six athletes performing five movements in a 60-second AMRAP (as many reps as possible) contest, then showed them on a 72-inch LCD screen with a GoPro attached to the side, which filmed the last 10 seconds of the users' competition. Participants received a video of their challenge by email for social sharing (Agency: Genuine, Boston).

Under Armour Digital Obstacle Course
A custom-built digital obstacle course in which participants "sprinted" down Michigan Avenue, "kayaked" in the Chicago River and "climbed" up the stairs of the Willis Tower helped launch the opening of Under Armour's Chicago Brand House store, a 30,000-square-foot space on the Magnificent Mile. The idea? To build awareness, drive loyalty and traffic and encourage social connectivity. The course integrated gesture technology in a way that was authentic and relevant to UA's brand story via Microsoft Kinect. The challenge took place during a Brand House VIP and press opening event and during the Health and Fitness Expo at McCormick Place (Agency: Agency EA, Chicago).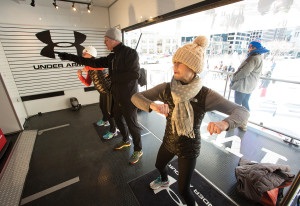 Puma's Energy Tracker Treadmills
Twenty-five Puma-branded treadmills, six large LED screens, a giant 13-foot semicircular LED tower, out-of-home billboards and signage, along with tons of collective energy supplied by the participants, set off a spectacle in New York City's Times Square to support the launch of Puma's IGNITE running shoe. Semi-professional runners, the NYPD, tourists and passersby took to the energy-tracking treadmills. After 150 minutes of running, the screen showcased that the group had reached 100 percent, which prompted an appearance by Usain Bolt, the world's fastest man, ascending above the crowd on a riser. The moment was projected on Times Square billboards as pyrotechnics flared (Agencies: iDEKO Productions, Ogilvy PR, both New York City).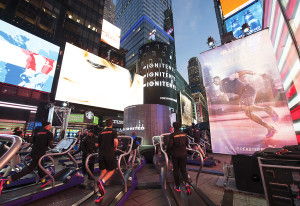 *This article was originally published in 2016 and is updated periodically
Credit to: http://www.eventmarketer.com/inside-10-of-the-industrys-best-digital-sports-sponsorship-activations/