Back
5 Experiential Marketing Activations From SXSW That You Need to See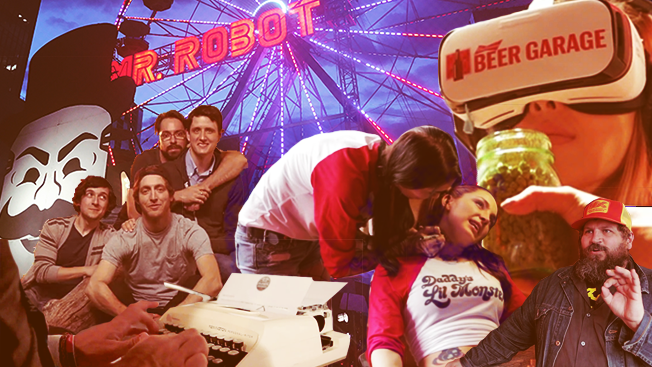 South by Southwest is more branded than ever—whether attendees arehappy about it is another story—and that means brand activations are everywhere. The Austin, Texas-based festival has become a hub for innovative, immersive marketing that gives consumers a unique experience while potentially endearing brands to them—at least that's what the brands hope.
While attending SXSW Interactive this year, Adweek's video team got a look at several brand activations including from American Greetings, Anheuser-Busch, Mashable, Warner Bros.' Suicide Squad and USA Network's Mr. Robot.
If you didn't happen to stumble across these experiential marketing efforts, take a look at the videos below for a taste of what you missed:
The greeting card company decided it would disrupt the tech focus of SXSW with a wholly analog activation. Passersby could stop to do a variety of paper-based crafts like do-it-yourself printmaking, pop-up cards and even a print version of a GIF. Designers, including Stefan Sagmeister and Aaron Draplin, were also on hand to tell attendees why paper still matters. Readthe full story here.
For its activation, the beermaker turned to the latest fad for marketers: a virtual reality experience. While there was more to the Budweiser Beer Garage than its VR offering, that was arguably the most interesting experience for SXSW attendees. Readthe full story here.
Now a staple of SXSW Interactive, the Mashable House isn't just a venue for the digital-only publication to give its readers a tangible, physical connection to the brand. It's also a hub for several other brands' activations. Mashable partnered with Pepsi, Qualcomm, Amazon Launchpad, Las Vegas Convention and Visitors Authority, Facebook, Hasbro's Transformers, Quaker and HBO, with each brand offering something special to Mashable House visitors. Readthe full story here.
Warner Bros. isn't releasing Suicide Squad until summer, but the studio still wanted to get SXSW attendees excited about the upcoming film. To do that, it took over downtown Austin's Affinity Tattoo and Body Piercing and transformed it into Harley Quinn's Tattoo Parlor, where people could get fake or real tattoos of original artwork of the film's characters. Readthe full story here.
After the success of its debut at SXSW last year, USA Network decided it wanted to return to the festival and give fans of its popular show an unforgettable experience. To do that, the network cooked up the idea of bringing along a 100-foot Ferris wheel, just like the one on Coney Island, home to the titular character's hacker den (which the network also recreated in Austin). Readthe full story here.
Credit to: http://www.adweek.com/brand-ma...